Gloucester Amateur Radio & Electronics Society: 100 Year Celebration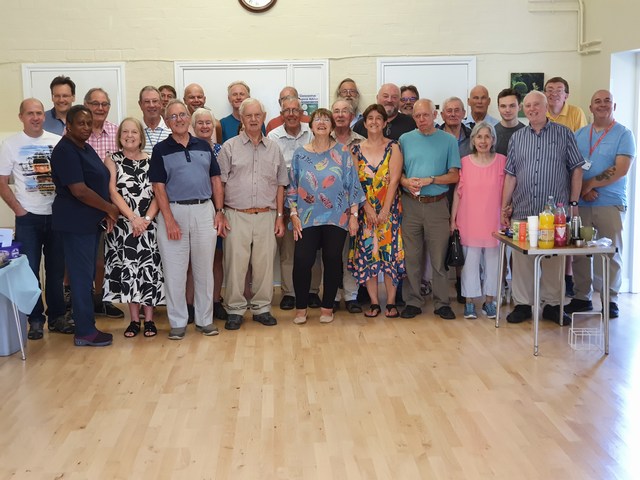 We know that the club can trace its history back over a hundred years.
in 1921, the Wireless Society of Gloucester petitioned the postmaster general for telegraphy facilities
on 21st March 1926, the Gloucester Wireless Club was formed
in the 1950's, the name was changed to the Gloucester Amateur Radio Society and we were affiliated to the Radio Society of Great Britain
on 13th January 1997, the current name was adopted to broaden the Society's perspecive and cater for those interested in electronics in addition to those purely interested in amateur radio.
It would have been nice to have celebrated our anniversary in 2021 but Covid got in the way, so...
On Saturday, 13th August 2022, from 10am to 4pm, we held a special celebration.
Down Hatherley Village Hall was a hive of activity before the scheduled start time of 10 am.
Tables were bedecked with balloons and laid out ready for the arrival of the buffet lunch. The displays of Heathkit and other equipment were set up along with a splendid display of club archive material.
Meanwhile, outside, the doublet antenna was erected using a Spider Beam pole in the centre, and after some fiddling around to get one leg of the antenna over the roof of the hall, it was supported by shorter poles at either end. A second Spider Beam pole was used to hold a SlimJim antenna for 2m. Both of these poles were supported courtesy of 'drive-ons' held in place by Gary's car.
The station was set up in the small room off the main hall that seems to have been dubbed the 'broom cupboard'. Despite the name, there was plenty of room for several people to observe operation of the HF and 2m stations. About 30 stations were worked on 40m and a handful of club members on 2m.
During the morning, we were visited by our Deputy Regional RSGB Representative Giles Herbert, G0NXA. Giles stayed for quite a while and seemed to enjoy the event. The new RSGB Region 5 Representative, Neil Yorke, was regrettably delayed by an over-running meeting and was unable to make the event.
A splendid lunch duly arrived, together with a massive chocolate cake and cupcakes replete with the GARES logo.
During the morning there was a good breeze keeping the hall cool, but in the afternoon the temperature rose to 33°C, and so it did become a bit less comfortable. Nevertheless, a number of members helped with dismantling of the station, exhibits and what remained of the lunch.
All in all, a highly successful and enjoyable day, a fitting celebration of 100 years of our club.
Very many thanks to all those that contributed to the success of the day.